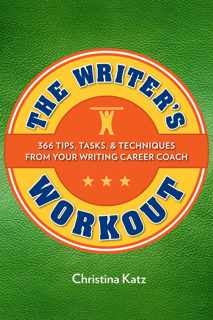 I found an unexpected use for my new favorite writing-related book: "The Writer's Workout" by Christina Katz. It's my Magic Eight Ball. Or, more honestly, it's one way my intuition talks back to me.
My most recent example of how this works happened Monday. I was starting back to work on a novel I've been writing for years in starts and spurts. My husband and I finally think we've found a way to arrange our schedules to accommodate a few regular windows of time for me to get it done.
Our plan was nearly perfect except one small roadblock. Me.
I wasn't caught up on all the other stuff I do around here. I didn't have all my notes for this novel gathered in one place like I'd been meaning to. I didn't know where my outline was, which is more important since I lost so much in the first computer crash last year. I realized, though, that to finish it what I had to do first was to simply just begin. So I did.
It.Was.Awesome.
And just before I started writing I flipped "The Writer's Workout" open to page 145 and found this:
If organizing is cutting into your writing time stick with finding your writing rhythm instead.

… Don't schedule writing time. Just write. Don't decide too far ahead what you will do, just do what you need to do now. … Keep writing until you meet each goal.
Another example that happened literally as I was working on this post: I was thinking about another post I'm working on about Bill Johnson's presentation at the last Northwest Author Series. I wrote a note to myself to encourage readers to be themselves in their writing, to use the voice and style that comes most naturally to them. And then I opened my Magic Eight Ball randomly to page 146 and found:
I was born to be Christina. Marc was born to be Marc. And you were born to be you. what kind of unique trail are you going to blaze?

See?!? It works. Every. Time.
(If you try it, I'd love to hear what comes up!)
If you want to buy a copy of your own, call your local book store and ask them to order it for you. Let me know if you do because I'd love to check in with each other as we make our way through the year. While it's obviously helpful any time, any day,  "The Writer's Workout" is designed to start in the spring, which will be here soon!
Let's flex our brains, stretch our fingers and get writing! 
I'll be back tomorrow evening with a guest post from the coach herself. 
Until then, here's my Amazon review:
In the spirit of full disclosure, I know Christina. I like Christina. So of course I'm going to read her newest book. And I'm a fan so naturally I'll buy it. And I'm a polite person so I'll say some polite things about it. What I won't do, though, is encourage you to buy it unless it's a bookshelf-must.
It is.
If you're smart, you're more conscious than ever about how you spend your money regardless of how much you have. And if you're like most writers the last thing you need is another un-read book on your nightstand.
But The Writer's Workout isn't meant to be read in one sitting. Instead, it's intended to serve as a constant guide and companion; a virtual coach clarifying your writing goals and guiding you ahead in your career with practical advice, thoughtful quotes and engaging exercises.
I've read enough reviews on Amazon to know there are some who think knowing the author precludes a person from writing an objective review. Perhaps that's true. But, since I do happen to know Christina Katz, I can tell you something about her the book jacket can't. She's a writer who walks her talk. Her advice is relevant, current, solid and based on personal experience.
Just like her first book Writer Mama wasn't helpful exclusively for mothers, The Writer's Workout isn't inspiring exclusively for writers; it's also motivating for anyone with a long-term personal or professional goal.
---